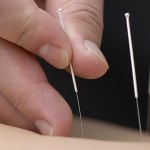 Dr Sadlon has been practicing acupuncture in Rochester NY since 1986.  He has successfully treated hundreds of patients in the Rochester, NY area with acupuncture.
Acupuncture is a complementary or nontraditional medicine approach based on an ancient Chinese treatment for pain, headache, depression, constipation, fibromyalgia and many other ailments. This technique involves inserting thin needles into the skin to stimulate certain points or reactions, which is thought to correct imbalances in the physical system and improve the flow of the lifeforce.  Dr Sadlon practice the following types of acupuncture in Rochester NY: Auricular, Children's Treatments, Cosmetic, Disposable Needles, Electrical Stimulation, General Acupuncture, Laser, Moxibustion, No-Needle, and Traditional.
According to the American Association of Acupuncture and Oriental Medicine (AAAOM), acupuncture is a low-tech, non-invasive and cost-effective system of care with an excellent record of success and a strong safety record. It has been found to be "highly effective" in managing chronic pain, increasing conception rates in couples experiencing infertility, controlling chemotherapy-induced nausea and vomiting, and treating migraine headaches.
If you're looking for Acupuncture Rochester NY you've found the right place.  Dr Sadlon has developed a reputation as a problem case specialist.  He is often able to provide relief to his patients in Rochester NY when other providers and modalities have failed.  He takes a unique individualized approach to each patient.  A custom treatment plan is developed based on the unique acupuncture needs of each individual.
Dr Sadlon provides care to patients in Webster, Penfield, Fairport and the greater Rochester, NY area.  Our office is located in Penfield, NY.
Call us today at 585-586-7630 with questions or to schedule a consultation.  All you have to lose is your pain!
Interest in Learning More About Acupuncture?
The video below discusses the origin of acupuncture and its compliment to Western medicine.